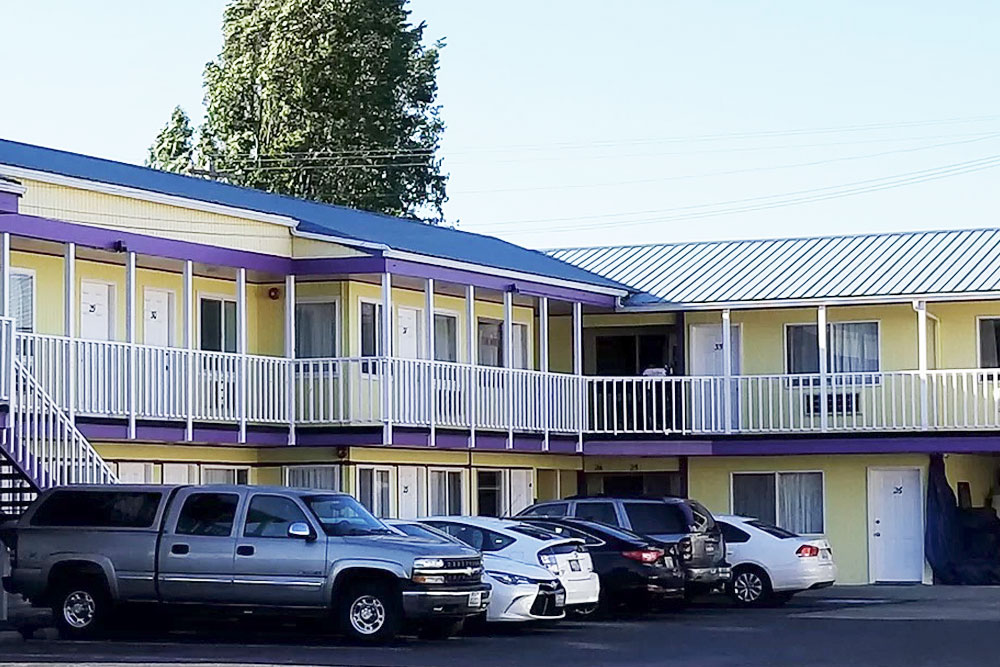 The Royal Victorian offers very clean and comfortable single queen rooms, double queen rooms, king rooms and a "Family Suite" which includes a single queen and a separate room with 2 twin beds or "Double Queen" with separate bedroom. All rooms include free internet, cable tv, direct dial phones with free local calls, microwave, and mini fridge. For your comfort and ultimate experience, all of our guest rooms are non-smoking.
While staying at the Royal Victorian, you can't help but notice the fantastic view of the Olympics Mountains which can be viewed from the lower floor as well as the balcony upstairs. Most guest rooms have an excellent view of the Olympics out their window and the Harbor is just a few short blocks away.
We are located in Port Angeles Washington.
521 E 1st St.
Port Angeles, WA  98362
Tel: (360) 452-8400
The Royal Victorian Motel is situated in the perfect location for all things Port Angeles.
Centrally Located
100% non-smoking
Cable TV
FREE Wi-Fi
By Ferry
Ride an iconic Washington State Ferry if you can! Washington State has one of the largest ferry systems in the U.S. with routes to and from some of the most scenic spots around the Pacific Northwest and Western Canada. Check to see if your destination offers ferry reservations online to avoid long waits.
Take the ferry from Seattle to Bainbridge Island (see new bus service from Bainbridge Island below!) or from Edmonds to Kingston
Take the ferry from Victoria, B.C.: The Black Ball Ferry Line operates the Coho Ferry between Victoria, Canada and Port Angeles.
Take the ferry to Whidbey Island from Port Townsend. This is a more direct route if you need to end up north of Everett. Watch for planned closures due to tide conditions.
By Car
Driving a vehicle to get around the Peninsula is recommended in order to make the most of your stay. Driving is also the quickest way to get to Port Angeles from the Seattle area despite numerous ferry options. If you happen to arrive by ferry sans car, you can rent a car in downtown near the ferry terminal. Getting to Port Angeles, the Olympic National Park and Peninsula on Hwy 101 is a pleasant drive with most of the trip following the scenery of the Puget Sound.
Coming from Olympia: Take I-5 to Hwy 101
Coming from Tacoma: Take State Route 16 to Bremerton; take State Route 3 north from Bremerton to State Route 104; There may be some delays across the Hood Canal Bridge if the bridge has to close due to boat traffic.
Coming from the Washington or Oregon Coast: Connect to Hwy 101 in Aberdeen
If you plan to head to Victoria, B.C. for a day trip, ferry parking is available near the Coho Ferry terminal in downtown Port Angeles ranging from $8-$15 per day. See "BY FERRY" paragraph above for more details.
By Bus
Dungeness Bus Line is an intercity bus line for Washington State DOT, operated by Olympic Bus Lines, providing service from Seattle-Tacoma International Airport to Kingston, Edmonds, Discovery Bay, Sequim and Port Angeles. It's recommended to book ahead online to ensure you have a seat.
Clallam Transit System runs a bus line in and around Port Angeles and services a large portion of Clallam County and soon Bainbridge Island ferry terminal — including Jamestown S'Klallam (Blyn), Sequim, Lake Crescent, Lake Sutherland, Joyce and Forks.
As of June 17, 2017, Clallam Transit System is offering the "Strait Shot" daily bus service from the Bainbridge Island ferry terminal. You'll be able to leave the car in Port Angeles or Seattle and walk on board the Bainbridge Island ferry for a car-free journey on the Olympic Peninsula or to explore downtown Seattle. The "Strait Shot" will make stops in Sequim, Blyn, Poulsbo and Agate Pass. Go to www.clallamtransit.com for information and updates.
By Air
Currently, Port Angeles lacks commercial air service, but the Port of Port Angeles is working on it so visitors can fly directly from the Seattle-Tacoma Airport (SEA). Meanwhile, you can charter a flight into Port Angeles from SeaTac, or any other major airports around the Pacific Northwest, with Rite Bros. You can also fly into Victoria, B.C. and then hop aboard the Coho Ferry into Port Angeles.